WE TAKE YOUR BUSINESS
FAR AS YOU LIKE
Encompassing Connectivity Solutions for the
Retail Sector

CONTROL AND MANAGE THE CRITICAL VARIABLES OF THE OPERATION.
Make strategic and tactical decisions based on real-time information:
• Access to online inventories.
• Analysis of product rotation.
• Activation and dissemination of promotions.


STRENGTHEN RELATIONS WITH THE CLIENT WITHIN THE STORE.
Identify buying habits, define loyalty plans and communicate directly with customers at the point of sale during the real-time of purchase.
• Increase sales recommending complementary products.
• Communicating promotions and discounts at the time of purchase.
• Optimum operation of payment methods for points or store-owned cards.


GENERATE A SERVICE EXPERIENCE WITHIN THE STORES.
Assure an excellent service experience guaranteeing that the outlets are always connected.
• Less time at the points of payment.
• Systems without failures.
• Continuous Connectivity for customers at the point of sale.


DEVELOP COMPLEMENTARY BUSINESSES AT POINTS OF SALE.
Guarantee that other businesses that operate within the store always function properly without connectivity issues.
• ATMs.
• Food shops.
• Travel agencies.
• Pharmacies.
• Points of payment and services.


DEVELOP HUMAN TALENT AT ALL POINTS OF SALE.
Coordinate efficiently the induction and training of personnel, which are carried out at all stores based on a central strategy.
• Reduction of timelines, number of training sessions and logistics costs.
• Effectiveness in the communication of the contents and the corporate message.

Satellite Business
Solutions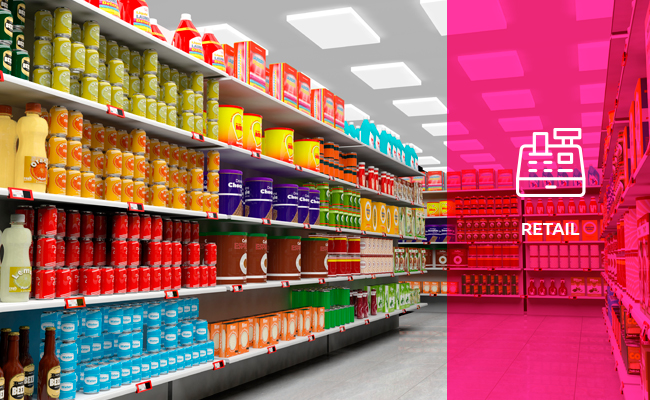 Solutions designed to meet standard connectivity needs and expectations, such as Internet, voice, transactional data and basic connectivity for your commercial activity.
Ideal for: Online billing, cashier and inventory control systems.
Solution that allows to cover the needs of transmission of transactional data with high availability, reliability and at a low cost.
Ideal for: Use of ATM-POS type transaction applications, points of sale, payment authorizations, and dataphones.
Backup solutions that guarantee the business continuity of any type of operation in an economic and effective way.
Ideal for: supporting the operation and maximizing the availability of the point of sale.