WE TAKE YOUR BUSINESS
FAR AS YOU LIKE
Encompassing Connectivity Solutions for the
Mining Sector

COMPLIANCE OF REGULATIONS AND STANDARD REQUIREMENTS OF THE SECTOR.
Have access to information at any time and from anywhere, for compliance with government regulation standards.
• Social.
• HSE and Occupational Safety.
• Environmental.


OCCUPATIONAL SAFETY, CREW WELFARE, STAFF TRAINING & DEVELOPMENT.
Provide tools that improve the quality of life of workers on site.
• Communication with their families.
• Entertainment.
• Online training.
• Connectivity to communities.


GUARANTEE OCCUPATIONAL SAFETY AND CONTROL FOR MINING PROJECTS.
Make strategic and tactical decisions based on information in real-time.
• Download and transmission of information on key production activities:
• Soil analysis.
• Geochemistry, geophysics, cartography and spectrometry.
• Seismic exploration and strip mining.
• Inventory control.
• Management of resources (personnel, machinery and supplies).


OPTIMIZE RESOURCES FOR THE BENEFIT OF YOUR BUSINESS.
Implement flexible solutions addressing the actual requirements, timelines, mobility and speed required by the projects.
Hybrid solution with global SD-WAN integration for terrestrial and satellite connectivity services.
Direct cloud access via satellite with VSAT Express Route for Microsoft Azure or any other premium cloud supplier like AWS, Google or IBM.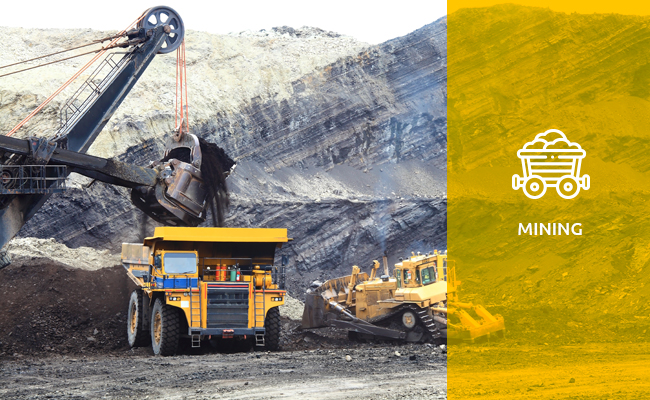 Solutions designed to meet advanced connectivity needs and high expectations of service for concurrency, availability and high-performance applications
Ideal for: Production systems, Video-Monitoring systems, online control of projects, works and solutions designed to meet standard connectivity needs and expectations, such as Internet, voice and transactional data.
Ideal for: operations without real-time applications and standard service expectations.
Solutions designed to meet standard connectivity needs and expectations, such as Internet, voice and data.
Ideal for: Casinos, well-being to human talent in remote camps and inventory control systems.