WHAT IS A SATELLITE LINK AND HOW DOES IT WORK?

THE SATELLITE LINK is a channel through which data are sent and/or received, which travel through radio frequency signals, which are broadcasted from a main earth station (Teleport) to a satellite, which in turn forwards the signals to a remote station located anywhere on earth. The signals are converted into data at the remote station to have access to: internet, telephony, video, streaming. This is achieved by means of a satellite modem.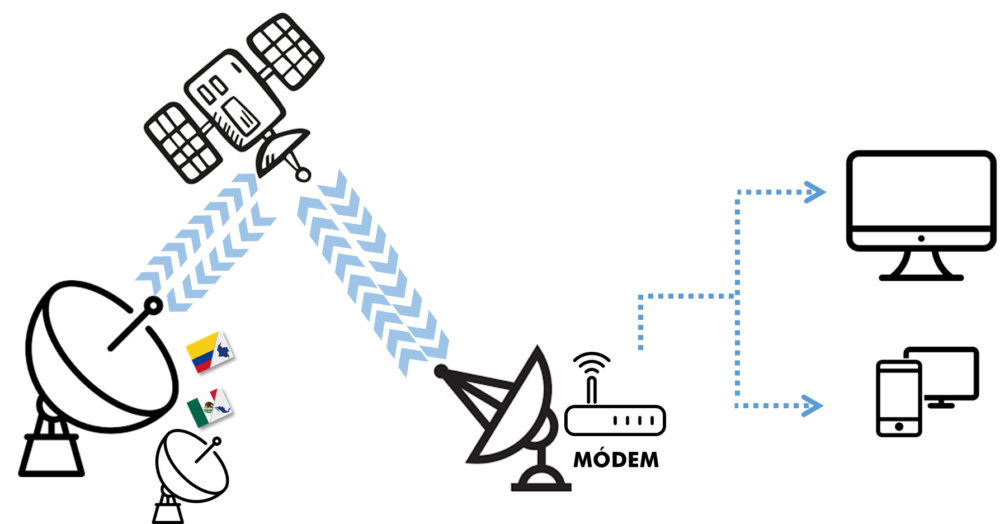 WHAT IS THE LINE OF SIGHT?
It is an imaginary existing line between the antenna and the satellite that provides the service, which must be free of obstacles such as: roofs, trees, buildings, amongst others, to assure optimum performance.

HOW CAN THE CLIMATE AFFECT THE SATELLITE SERVICE?
Satellite communications, even with the most advanced technology available, can sometimes be affected by aggressive weather conditions, such as: high cloudiness, storms, snow, hail, amongst others, which produce important variations in the propagation of satellite waves:
- They are attenuated as a result of power absorption.
- Losses occur on the transmitted wave due to the dispersion of the beam generated by the drops of water.

WHICH ARE THE SATELLITE OPERATIONAL BANDS?
There are 3 types of operating bands:
C-Band: It has lower sensitivity to atmospheric changes, service availability > 99.8% although it requires larger antennas which implies higher costs in equipment and installation.
KU-Band: It does not present interference with ground frequencies, although it is more sensitive to atmospheric changes, service availability > 99.6%, cheaper equipment for requiring smaller antennas.
KA-Band: Lower cost per satellite segment, service availability > 99.5% although it requires very powerful transmitters and is very sensitive to environmental interference.

WHAT ARE THE TYPES OF ORBIT FOR SATELLITE COMMUNICATIONS?
There are three types of orbits and they are classified accordingly to their distance from the earth: LEO ( (Low Earth Orbit) between 200 and 1,400 Kms,MEO(Medium Earth Orbit) at 15,000 Kms andGEO(Geostationary Orbit) at 35,680 Kms.

WHAT IS SATELLITE LATENCY?
It means the time it takes for signals to arrive and return from the satellite. The satellite is located at 35,000 kilometers from the earth. Each data packet must be sent separately and processed by the remote site. This process takes time, which creates a delay between 600 and 850 milli-seconds.

WHICH BANDWIDTH DOES AXESS GUARANTEES?
Axess guarantees 100% of the contracted bandwidth.

IS IT POSSIBLE TO EXTEND THE CONTRACTED BANDWIDTH?
The contracted bandwidth can be expanded accordingly to the growth and needs of its users. For this, you can take a free trial period of up to 7 days in order to assess your consumption and identify the bandwidth that best suits your needs.

WHAT DOES YES/NO MEAN?
It is a measure of the signal level that is received from the satellite, which can vary depending on climatic factors such as: high cloudiness, rain, hail, amongst others and that directly affect the performance of the contracted service.